SCANNED EXPERIENCES IN PRINT, PACKAGING, WARDROBE AND MORE
Sizzle has teams at The Illusion Factory to build these campaigns quickly for you.
SCAN OFFER TYPES:
1. Selling an item in Sizzle, or drawing attention on Sizzle for data capture
2. Selling an item on your website, or driving traffic to your website for data capture
3. Selling an item at a physical location
4. Launching a poll or survey
5. Launching a Sizzle Spin or Floating Augmented Reality Game
6. Launching a video
7. Launching a VR 360º tour
8. Delivering a PDF electronic print document
9. Delivering an HTML5 interactive experience
10. Delivering contact information
11. Causing the user to call a phone number
12. Causing the user to text a phone number
13. Delivering an Augmented Reality Television experience
14. Launching a viral game concept
15. Regionalizing an offer to where a consumer is currently standing
16. Scanning a POS for your chance to receive an offer or a prize
17. Scanning a Quick Response code
Producing a Scan offer in Sizzle brings you countless benefits. Here's what you'll need…
OFFERS AND PRIZES:
1. Photos to represent each item. 6 photos max for each item. Format: no dimension wider than 1000 px RGB JPEG
2. Video to represent each offer or prize. (optional) 1 video max Format: mp4, 600 bit rate (kbps) Codec: H.264
3. Description of each offer or prize
4. Shipping costs for each offer. Prizes must ship at your expense or be redeemed at a location of your choice.
5. Time limitation for each offer or prize
6. Quantity limits on offers and prizes to be distributed
OFFER AND PRIZE REDEMPTION:
1. In Sizzle Shop: Product must be inserted into the Sizzle Shop. Please review Sizzle Shop requirements.
2. Your website, Shopify or other website: Specific URL for redemption. Sizzle will provide a tracking pixel for insert into your site.
3. Physical Location: Address and time of operation.
4. Specific instructions for redemption.
5. Choice of 4 digit PIN for prize validation.
SCANNED OFFER OUTCOMES
Sizzle instantly delivers the user to:
          • URL
          • Social media ste
          • Offer in wallet to redeem
             at physical location
          • Download of app
          • Share on social media
          • Download of white paper
            or contact information
          • Add to calendar
          • Call now
          • Text now
          • Email now
          • Enter contest or sweepstakes
          • Take a poll or survey
          • Take a quiz, test or other
              interactive engagement
          • Play video
          • Deliver digital swag
          • Show augmented reality television
          • Show augmented reality products
          • Deliver a code to download a video
          • Play Sizzle Spin
          • Play Sizzle AR Games
          • Play Sizzle Ignore Me Game
             or other game
The process of producing a scanned offer, depends entirely on your objectives and the desired outcomes. Here are a series of considerations:
INITIAL DESIGN
The image is supplied by you to Sizzle in a high resolution JPEG file. On any repeating logo that appears on numerous images, such as the masthead on a magazine, you must first cut the masthead off the magazine before uploading, so that each issue will distinguish from the next month's issue. Sizzle recognizes points of interest, and looks at everything in black and white. Color is not your differentiating variable, but rather, the imagery itself. Some images require a steep contrast adjustment to ensure that the Sizzle image recognition system can distinguish it. This does not affect your image that the Sizzle app sees, but only the version of that image that is uploaded into Sizzle.The high resolution JPEG is stored into an offer on the Sizzle Offer Engine™.
VIDEO
Video is usually supplied by client or available for Sizzle to download from YouTube®. Video file is converted to an MP4 file at 600 bit rate, H.264 codec for upload to the Offer Engine.
DESIGN AND RIG 3D MODELS FOR AUGMENTED REALITY
3D models work incredibly well in the Sizzle platform. Files need to be delivered as USDZ files for iOS and OBJ files for Android. Sizzle will work with you to test your models prior to launching them publicly on the Sizzle platform. Reach out to us in the form to the right to connect for these discussions.
SHOOT PERFORMERS ON GREEN SCREEN FOR ARTV VIDEOS
Performers should be shot in 1920 x 1080 px format, full resolution on green screen background for use in augmented reality television inside the Sizzle platform. Post production of those files should adhere to the following tech spec: https://www.sizzle.network/downloads/Sizzle_Template_Video_Instructions.pdf
POST PRODUCTION FOR ANY AUGMENTED REALITY EXPERIENCE
Augmented reality can be produced in multiple methods. Actors shot on green screen. 3D Models. 2D Animation. Or any combination therein. Contact us to discuss your vision, and our team at The Illusion Factory  will help you produce your creative concepts!
PROGRAMMING IN HTML5 FOR INTERACTIVE BANNER GRAPHICS
Any offer may lead to traditional web interactivity of game, animation, and motion elements that help to promote acceptance of your offers in Sizzle.
SOURCE 360º VIDEO, CONVERT, AND UPLOAD TO OFFER ENGINE
Sizzle delivers our users to all possible outcomes, including 360º videos. Contact us at the form on the right, for assistance in importing your 360º videos into Sizzle offers.
PROGRAM OFFER PARAMETERS INCLUDING ANY REGIONALIZED GPS REQUIREMENTS
Sizzle is able to pair multiple triggers to allow you to make very specific, regionalized offers to our users, or to your customers. Contact us with the specific nature of your particular offer, and Sizzle will work with you to help you to tailor your offer to precisely the correct target audience.
SET UP DATA AND ANALYTIC REQUIREMENTS
Your data is important, and private. Sizzle will help you to put your data into the proper parameters to be most useful to your team during and after your promotion. Discussing the statistics that you are seeking to achieve, will allow us to collaborate with you to ensure the proper outcomes to your offer.
OFFER DESTINATION OR OUTCOME
Sizzle may deliver offers to the internal Sizzle Marketplace in the Sizzle.store, or to your website, online store, Shopify store, or to any physical location(s) of your choosing. If you prefer visits to social media, or new posts of your brand to the user's social media, Sizzle has programs to help you achieve these objectives as well. If you seek a direct phone call, text or email, Sizzle will tailor your offer to deliver those outcomes. Entries into contests, sweepstakes, games, polls, surveys, quizzes or tests are equally possible. No matter the form or style of your offer, Sizzle has the tool suite to deliver your consumer to almost any possible outcome of your choosing.
URL DESTINATION FROM AN OFFER
You may choose any URL for your offer destination, from general pages, to specific pages, donation seeking pages, and product/service for purchase pages. You may wish to connect to a Matterport 360º virtual tour. Whichever your requirements, the Sizzle Offer Engine™ is equipped to deliver your user to any outcome of your choosing.
SIZZLE STORE OFFER DESTINATION
This requires the creation of a Sizzle store with some of your products. It is a fast and efficient operation. Please contact us at the form on the right to discuss your store needs.
PHYSICAL LOCATIONS
Sizzle will deliver your customers to your location(s) of choice. Those customers will show a digital offer inside the Sizzle wallet, in order to redeem an offer or claim a prize that they have won. You have the choice to validate your offers and prizes through either the use of a bar code that is supplied by you to us at the time of the creation of the offer. and/or Sizzle uses a double PIN system where the user and your representative will each enter a PIN to validate the digital offer, and eliminate counterfeit attempts to cheat the system.
SOCIAL MEDIA SHARING CHOICES
Sizzle is equipped for sharing in almost all forms of top social media. Sharing campaigns can be pictures, videos, augmented reality experiences, special deals and more.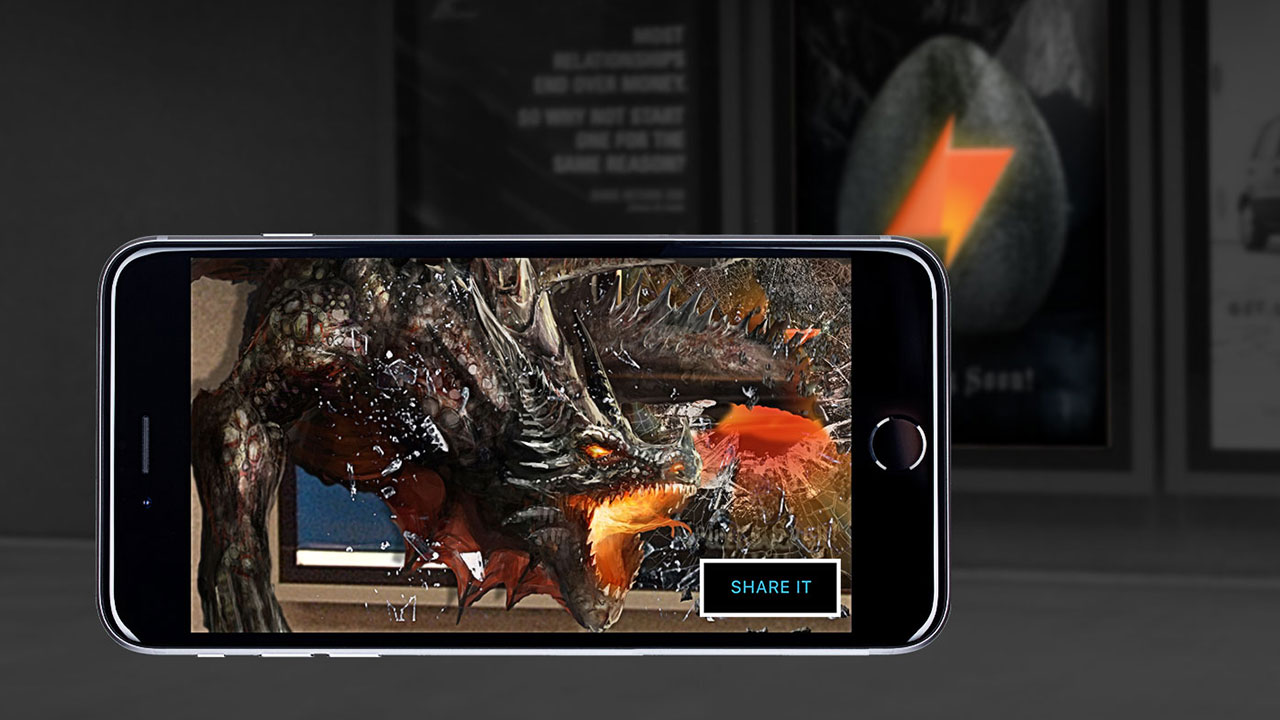 Send us a note when you are ready!
SCANNED CAMPAIGN OPTIONS
NEWSPAPER AND MAGAZINE ADS
Deliver Sizzle offer, leading to a URL, social media site, offer in wallet to redeem at physical location, cause download of app, share on social media, download of white paper or contact information, add to calendar, call now, text or email now, enter contest, poll, sweepstakes, quiz, test or other interactive engagement. Play video, deliver digital swag, show augmented reality television or augmented reality products, deliver a code to download a video. Play Sizzle Spin, Sizzle AR Games. Sizzle Try To Ignore Our Brand! Game or other game.
PRINTED BROCHURE
Your printed brochure carries considerably more impact as each of the panels come to life, using Sizzle technologies to deliver a spectrum of experiences, offers, information, data capture and potential transactions.
VACATION TOUR RACK CARD
A tour is an emotional purchase. Print media only goes so far. Use Sizzle to expand that opportunity by connecting the promotional print content to a video, 360º video, 3D Virtual Tours and more. Then Sizzle connects to an instant purchase.
BUSINESS CARD
Business cards make the first impression. An augmented reality television business card, get's shown all around the world.
LOGO
Turn your logo into a hub of new information disposal. Take Sizzle's experiences and change up the reaction delivered when your logo is scanned on a daily or weekly basis. Condition your audience that scanning your logo delivers an unexpected surprise.
PHOTOS
Photos that are unique usually make outstanding targets for Sizzle. Upload an image in our system and use it to trigger interactivity for a host of great reasons.
SIGNAGE
Interactive signage allows you to attract a customer, capture data, reward them instantly and bring all of the many offer solutions that Sizzle provides, to life. A scan of your sign can add to a loyalty program, or pair with other opportunities that your organization desires for a comprehensive connection made from a print media stimulus.
Sizzle recognizes static images. Animated signs are not likely to work, and you may require a GPS trigger if this is your only visual option.
BUS SHELTER
Bus shelters should deliver movie trailers, tokens to watch the pilot of a new series, and discounts on the products that they are promoting. They should lead to instant sales. Sizzle can accomplish this, data capture and more.
BILLBOARD
Many billboards and skyscraper wraps and bus wraps are too far way from the consumer to catch the image. These require a GPS trigger.
SKYSCRAPER WRAP
Many television shows are advertised in this format. Use Sizzle to deliver a digital token that enables your potential new viewer to sample the pilot episode through this new digital connection to the consumer. Any product may be purchased from a skyscraper, using Sizzle to complete the experience. Most billboards and skyscraper wraps and bus wraps are too far way from the consumer to catch the image. These require a GPS trigger.
BUS WRAP
Many billboards and skyscraper wraps and bus wraps are too far way from the consumer to catch the image. These require a GPS trigger. Bus wraps should deliver movie trailers, tokens to watch the pilot of a new series, and discounts on the products that they are promoting. They should lead to instant sales. Sizzle can accomplish this, data capture and more.
SOUVENIR ITEM
Bring your souvenirs to life with celebrity augmented reality television appearances, augmented reality 3D experiences, connections to games, contests, polls, and fan memorabilia using the Sizzle Scan.
CLOTHING OR PRODUCT
Many items gain tremendous new value if they are the target that launches a great consumer experience or effect or performance.
PACKAGING
Deliver information on your product in persuasive new manner using the scan function in Sizzle. Or make your packaging into a must have, because it is the sole trigger of a desirable performance, only available inside Sizzle.
MUSEUM, AQUARIUM, ZOOS EXHIBITS
Bring museums, aquariums and other exhibits to life with supplemental content provided in any or all of the media that Sizzle supports.
SPECIALIZED CITY TOURS
City tours are brought to life with visual markers to scan. Tours are themed based upon the specific city and its experiences. It could be a food tour, fashion tour, historical events tour, etc. All coming to life, using the Sizzle platform.