PURPOSE
Sizzle.shop facilitates each of the Sizzle merchants to have their own branded storefronts to make shopping for their wares easy for the Sizzle users. Influencers may open custom stores with their personal collection of favorite items for their fans to purchase and for the influencer to earn commissions.
CONCEPT
The Sizzle store comes with a branded storefront, and a custom backend to allow Sizzle Merchants to populate their store with as many SKUs as desired. The backend is complete with all of the tools and features of a marketplace for promotion, discount, featured items, coupons, etc. Further, the Sizzle store connects with the Discover section in Sizzle to place key items into the Discover search section. Sizzle games deliver prizes and coupons, both of which may be redeemed in the Sizzle Shop (or outside locations).
COST
Monthly Cost: Pick the monthly program, Start Up, Enterprise, Premium or Custom that is appropriate combination of Sizzle Offer Engine™ functionalities for your company or organization.
Additional Game Costs:
The Sizzle Store comes with any of the Sizzle programs. Client will be encouraged to populate their own store, as done in ETSY, Shopify and others.  In that situation, none of these set up fees apply. 
If the Merchant wants Sizzle to set up their store, the base fee to set up a store is $2500. 
This covers a store header design, populating the store with merchant basic information. Coordinating payments and inventories and sales tax with merchant.
Populating the store with merchandise costs $20 per item, $50 per item that has multiple variable SKU's. This includes up to 3 photos per item. Ea. additional photo is $5
IMPLEMENTATION
3 Easy Steps
1. Click GET STARTED below to log-in/create an account and select this category on the Sizzle dashboard
2. Upload your offers, prizes and branded game artwork following the technical specifications provided on the dashboard
3. Set the parameters of your game, contact Sizzle for custom programming (allow 4- 8 weeks) and launch
Sizzle away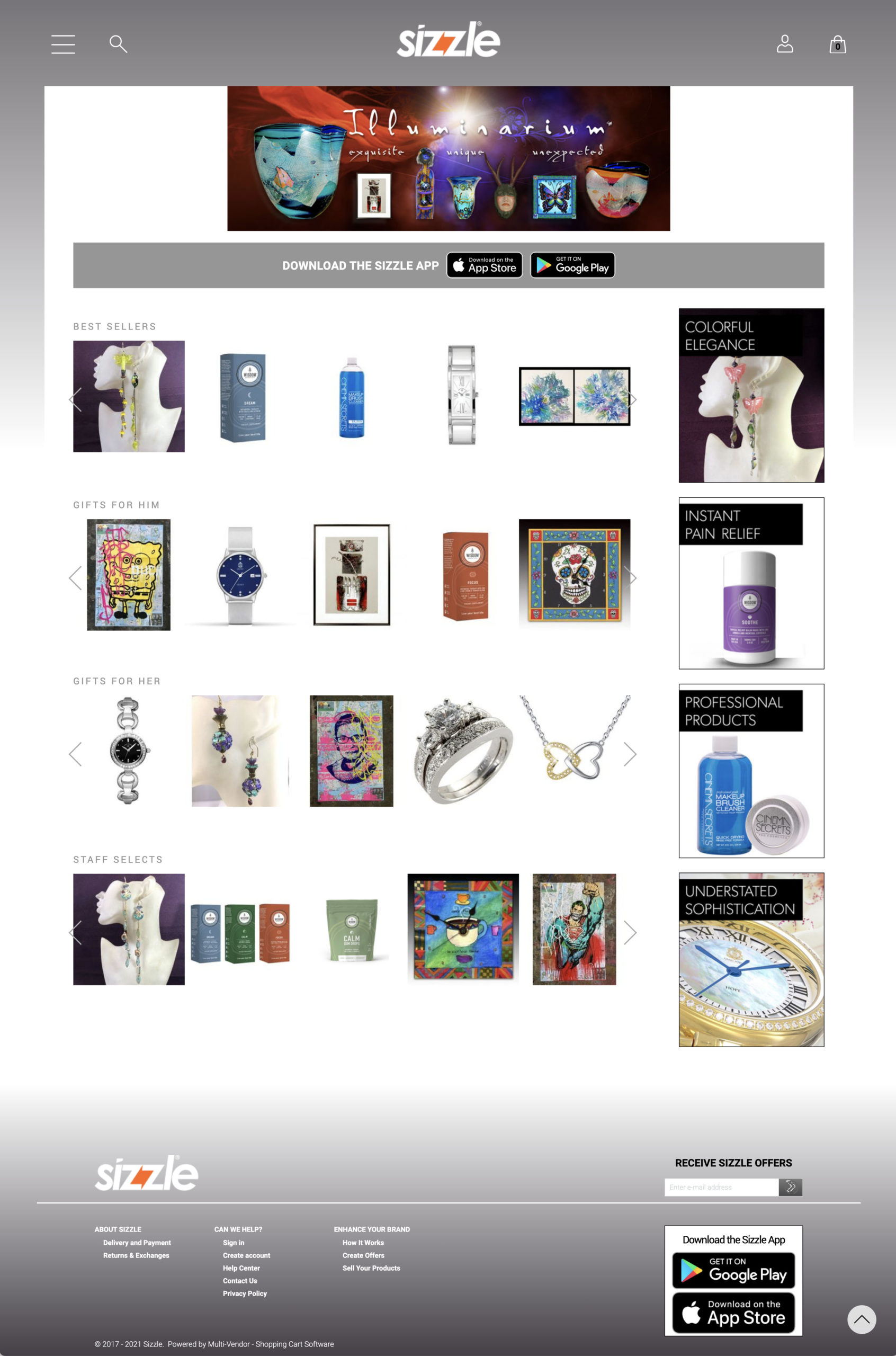 DISCLAIMER
Mocked up visuals are for illustrative concept purposes only. No direct relationship between these brands and Sizzle is intended or implied. Trademarks are property of the original trademark holder.
---
For illustrative purposes only. No relationship between Sizzle and the brands on this page is intentional or implied. Trademarks belong to the original trademark holder.